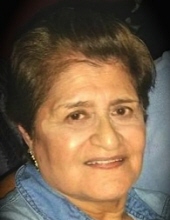 Obituary for Antonia Lee Mireles
Antonia Lee Mendez Mireles, 75, passed away peacefully at her home in Port Orange, FL 9:20 p.m. Saturday March 3, 2018 surrounded by her beloved family and pastor.

Antonia was born in Monmouth, IL October 13, 1942, the daughter of Marciano and Ramona (Adames) Mendez.

She is survived by her loving husband of 56 years Clemente Mireles. She was a loving mother to her 5 surviving children Paulette, Marc, Paul, Tony and Melissa Doting and Grandmother to her 5 grandchildren Melissa, Myles, Maddux, Cali and Ela. Surviving also is a brother, Ray Mendez of Galesburg, Ill.; and three sisters, Carmon Pacheco of California, Violeta (and Arnold) Gonzalez of Galesburg, Ill., and Pamela Mendez of South Carolina. She was preceded in death by two brothers Carlos and Anthony Mendez.

Memorial Service will be held 11 a.m. Saturday, March 10, 2018 at Westside Baptist Church, 1085 Mason Ave Daytona Beach, FL 32117. Antonia's service may be viewed by family and friends at Watson-Thomas Funeral Home and Crematory, Galesburg at 10 a.m. Saturday, March 10, 2018.